Square
Dancing
---
Make a Square Dance Part of Your Next Event
Square dancing at your party or event can add alot of fun to an evening.
Grab your family & friends and join us for an evening of pure fun while square dancing the night away.
Don't be shy, square dancing at the Lazy J is designed for beginners and no prior knowledge of square dancing is necessary!
The evening is a full program of square dancing and mixers designed for the fun and enjoyment of beginners.
The Lazy J Ranch Hands will be available from the time of your arrival to smoothly handle every detail of the evening.
The square dance caller will orchestrate the entire program of events, ensuring a relaxing and memorable experience for everyone.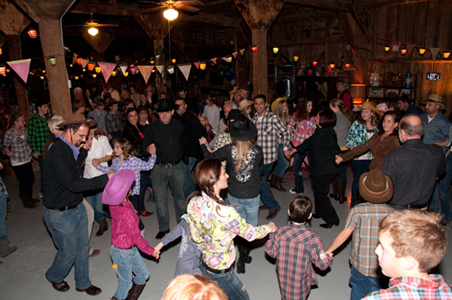 Rental of facility includes Square Dance Caller
Daytime parties may also be available, please contact us for more information
You may choose to bring your own food and snacks or enjoy one of the delicious catered meals available. Click on the CATERING link to view the catering services.
In order to attract the largest group participation, we suggest the title of your theme party be called a "Country Hoe-down" or "Western Barn Dance".
Rental Deposit of $500 is required within 5 days of booking and is non-refundable unless the cancelled date can be filled with another booking
---
OFF-SITE SQUARE DANCE CALLING
Our Square Dance Callers are available to attend your private parties off-site at the rate of $500 for the first two hours and $200 each additional hour. Please contact us to discuss off-site square dance calling options.